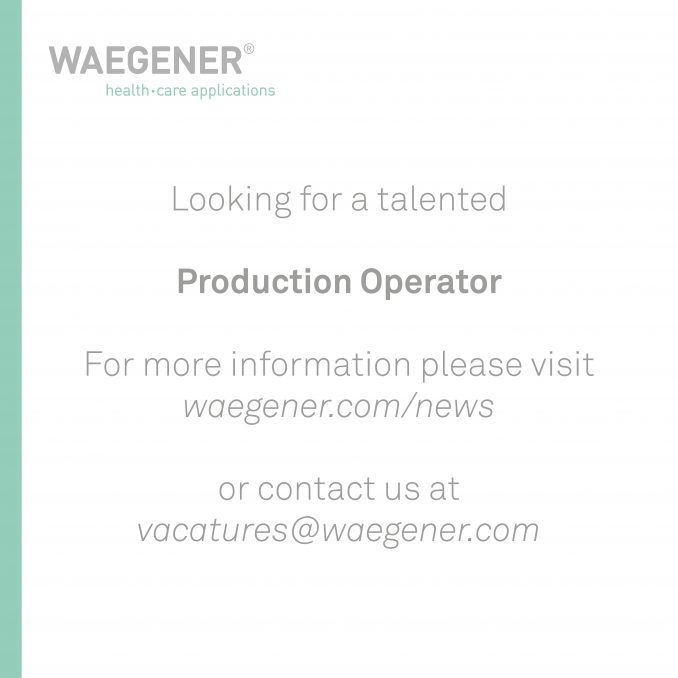 Join our team…we're hiring! Production Operator
Waegener is looking for a Production Operator! The company is in full growth and is expanding its production activities further. That is why we are looking for enthusiastic operators who want to strengthen our team.
Feel free to take a look at our vacancy and send us your resume and motivation letter at vacatures@waegener.com
Job Description
You are responsible for the manual assembly and assembly of fine parts of medical devices according to a predetermined schedule.
A training is provided.
You bring all the components together in the frame with a strong focus on quality and accuracy.
You are responsible for the correct registration of data during the production process.
Profile
It is important that you work very accurately and quality consciously.
Experience in assembly is a plus but not a requirement.
Working with medical devices requires order and cleanliness at your workplace and personal hygiene.
You need to have basic computer knowledge.
You have to be able to work both individually and in a team.
Job-related competences
Protect the pieces (cover, pack, …) send, check, install and secure the parts to be assembled (frames, profiles, structures, …)
Provide the mechanical installation and supervise the assembly and assembly of the pieces and parts
Detect faults on the installation and take the necessary corrective measures
Determine the operations for assembly, assembly and adjustments
Check the supply and tools of the workstation
Record data for production and quality monitoring (faults, interventions, …)
Make electrical wiring
Check the quality, mark the pieces and keep non-compliant items separate
Personal competences
Sense of accuracy
Planning (= organized)
Being contactable
Work independently
Result orientation
Being able to adapt to changing circumstances (flexibility)
Working together as a close-knit team
Compliance with rules and agreements
Learning ability
Read the full vacancy here and do not forget to follow us for our latest updates on Facebook, Twitter, Instagram, LinkedIn and Pinterest.